Every step we take towards Net Zero equals a better future for our children. Consumers can certainly make meaningful changes, but it's up to companies, large and small, to truly help reshape the future of the planet. Because every building has the power to change the world.
For over 30 years, Melink has been executing clean energy solutions for clients worldwide, lowering carbon emissions while increasing building values and raising company profitability. Just like we've done with our own Net Zero campus. We are passionate about helping create a dramatically more sustainable world. We're committed to solving tomorrow today.
Melink by the numbers
115

Megawatts Solar Installed

150K

Sites
Serviced

40K

Hoods
Controlled
A more sustainable future is what fuels us.
By continuing to challenge the conventions of traditional energy technologies, Melink has become a global leader in energy efficiency and renewable energy solutions for commercial buildings. We offer six services and products that promote reduced carbon emissions and healthy buildings to support your sustainability goals.
We walk the talk
(and drive it, too).
We practice the clean energy practices we preach.
Our corporate headquarters is LEED Platinum and Net Zero
Our HQ2 building is one of the greenest buildings in the world
Our employee vehicle fleet consists of all hybrid and electric cars
Our parking lots feature solar array canopies and vehicle charging stations
A history of living in the future
The Melink Timeline
1987

Steve Melink founds Melink Corp and its first business unit – Melink T&B – which provides HVAC test and balance services to restaurant chains. Wendy's, Golden Corral, Brinker and Darden are some of its first customers.

1990

Steve discovers the need for a controls system to save energy in kitchen hoods. Many were not prepared for this type of technology so when the Melink team invented the first demand control kitchen ventilation system, eventually known as Intelli-Hood, they had to fight for to make the technology code compliant. They succeed! Today, DCKV is required by many local and national codes. Not only was it a good idea at the time, now it's a requirement!

The second business unit in Melink Corporation, REM1 (Restaurant Exhaust Modulator), is established. REM1 is now known as Intelli-Hood.

Melink receives first grant from The Department of Energy for DCKV.
1991

The National Fire Protection Association (NFPA) 96 (primary code used to regulate commercial kitchen ventilation) amends its code in ways that effectively legitimize DCKV primarily thanks to Steve Melink's efforts. From visiting with NFPA committee members, receiving endorsements, and installing more systems, he created perception and awareness that technology was going to pass the code standard process up unless it took action. And they did.

1996

The Melink team moves into its first office building – a little white house in a residential neighborhood of Cincinnati. Melink T&B goes national to deliver consistency and coverage for customers, making it the first national TAB provider.

2000

Upon being awarded many new patents in multiple countries, this was the year of the Intelli-Hood upgrade. Significant enhancements to the technology were made and REM-1 was now called Intelli¬-Hood. The product now had more features, a user-friendly interface, and was an easier and faster installation. Performance reliability increased something around which Melink could scale. Kitchen hoods in restaurants, schools, supermarkets, and hospitals were about to get a lot smarter!
2001

Intelli-Hood moved into a warehouse separate from T&B, to accommodate growth of both the T&B and Intelli-Hood businesses.

Intelli-Hood goes international, having expanded to the UK and increasing Canadian market share.

2004

A green building conference sparks Steve Melink's inspiration to lead the sustainable building movement. He starts by issuing hybrid cars for traveling employees.

This year launched the 2nd generation of Intelli-Hood which included remote access capabilities and more intellectual property.

2006

Melink moves into its new LEED Gold headquarters in Cincinnati, with a dedication service attended by the United States Green Building Council president and the governor of Ohio. This new building gave Melink Corp more space for the growing business, lowered its carbon footprint, and established the firm as a leader in sustainable buildings.

(LEED, Leadership in Energy and Environmental Design, is the most widely used green building rating system in the world. Available for virtually all building types, LEED provides a framework for healthy, highly efficient, and cost-saving green buildings.)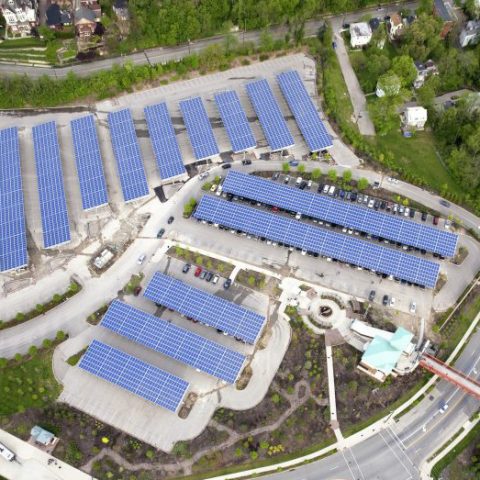 2007

Melink Corp awarded 2007 Award of the Year by U.S. Green Building Council (USGBC)

2008

Prompted by fascination from the public, Melink ventures into renewable energy by establishing a third business unit called Renewable Solutions which would eventually be named Melink Solar.

Melink Corp award 2008 Ohio Business of the Year by Green Energy Ohio

2009

The first project by Melink Solar is completed in Dayton, Ohio.

2010

Melink Solar gains momentum installing a major project for the Cincinnati Zoo & Botanical Gardens

Melink Corp achieved an even higher status of LEED Platinum in 2010. Based on our research at the time, we were one of only 25 buildings in the world to achieve EB Platinum.

For the first time, in 2010, Melink Corp achieved an Energy Star rating of 99.

(The Energy Star program, run by the Environmental Protection Agency, has developed energy performance rating systems for several commercial and institutional building types and manufacturing facilities. These ratings, on a scale of 1 to 100, provide a means for benchmarking the energy efficiency of specific buildings.)
2011

The Melink office becomes Net-Zero Energy along with Energy Star 99 rated and LEED Platinum certified. Its progressive integration of conservation, efficiency and renewable technologies makes it one of the greenest buildings in the world.

2012

Melink Corp awarded 2012 Product of the Year by International Air-Conditioning, Heating, Refrigerating Exposition

2013

This year marks the launch of the 3rd generation of Intelli-Hood. Made to be more modular, scalable and improved remote access, it is truly the next generation of Intelli-Hood.

2014

Melink earns the first of many Great Rated honors by the Great Place to Work Institute.
2015

After experiencing the benefit of its own geothermal HVAC system, Melink starts a fourth business unit – Melink Geo – to mainstream the technology.

Steve Melink is honored with the 2015 Ernst & Young Entrepreneur of the Year Ohio Valley award in the manufacturing solutions category.

Melink Corp is awarded the 2015 Exceptional Energy Savings Award by the Urban Green Council

2016

Melink is certified as a Great Place to Work® based on an independent survey conducted by the Great Place to Work Institute.

The patent for Manifest was granted. Manifest was launched as a packaged smart pump and control system for commercial geothermal heating and cooling.

2017

Melink Solar & Geo receives first grant from The Department of Energy with a goal to reduce first cost of geothermal heating and cooling systems.

Melink Corporation expanded their services beyond TAB to include total building commissioning.
2018

Steve Melink decides as a way to both exit the business and ensure those who help continue to build the company will benefit the most, rather than an unknown private equity company get involved, have Melink Corporation become an ESOP. In 2018, Melink Corporation became an employee-owned company, with shares distributed under an Employee Stock Ownership Plan (ESOP). Due to this, our values remain: mission, culture, and brand. Every day, we come to work for each other, embracing the opportunity to grow our share price and further our mission.

Melink breaks ground on HQ2.

The first customer install of Manifest took place in Cincinnati, Ohio.

2019

Melink launches PositiV, a standalone system that monitors your building's pressure and remotely tracks building health.

2020

Melink opened HQ2, a 35,000sq/ft Net Zero Energy test lab powered by a 60W solar canopy. The building utilizes several patent-pending technologies and control strategies to reduce energy usage that demonstrate in practice the potential of different Net Zero strategies. Melink has been using this full-size, real-world test facility to develop and verify the performance of new energy-saving technologies that will be available in the marketplace soon.

Melink University, an internal educational program for employees focused on growth and professional development was launched.

Since 2015, TAB business has doubled in size.

Melink Solar & Geo, Inc., awarded grant funding by the United States Department of Energy's (DOE) Office of Energy Efficiency and Renewable Energy (EERE). This funding will enable Melink to accelerate the research and development of its next-generation Hybrid Geothermal HVAC System, which stores energy using thermal batteries.

What's Next?

We will continue developing energy solutions for a brighter tomorrow for our customers, our families, and future generations.